Special Issue 2021 | 15(09):2021 | 10.21475/ajcs.21.15.09.sp
CROP ADAPTATION TO CLIMATE CHANGE: High-Temperature Stress in Drought-Prone Areas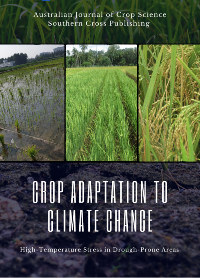 Full Issue PDF | DOI: 10.21475/ajcs.21.15.09.sp

………………………………………………………………………………………………………………………………………………………………..

CROP ADAPTATION TO CLIMATE CHANGE: High-Temperature Stress in Drought-Prone Areas

Fatma Sarsu*, Brian Forster*, Sobhana Sivasankar

Plant Breeding and Genetics Section, Joint FAO/IAEA Centre of Nuclear Techniques in Food and Agriculture, Vienna, Austria
BioHybrids International Ltd, Earley, Reading, RG6 5FY, UK

Abstract
The papers presented in this special issue are focused on the development of mutant lines and new crop varieties of rice and common bean with improved adaptation to climate change. Also included are the development or adaptation of screening techniques that enable efficient selection of desired phenotypes in plant breeding programmes. The breeding methods used are based on mutation induction and mutation detection, where mutation induction is via physical mutagenesis using gamma and X-ray irradiation. Selection for improved mutant lines is achieved through screening for plant performance in the laboratory, green house and field under hight temperature and/or drought stress. The papers presented are the result of a 5-year coordinated research project (CRP) on Climate Proofing Crops: Genetic Improvement for Adaptation to High Temperatures in Drought Prone Areas and Beyond, funded by the IAEA. The CRP, initiated in 2011, focused on tolerance to increased temperatures in rice and common bean. All participating countries generated new mutant populations in rice and bean and identified heat-tolerant lines with better yields than local standard varieties.

Pages 6-11 | Full Text PDF| DOI: 10.21475/ajcs.21.15.09.sp-i
………………………………………………………………………………………………………………………………………………………………..


Rice mutants with tolerance to multiple abiotic stresses show high constitutive abundance of stress-related transcripts and proteins

Priyanka Das, Rajeev N Bahuguna, Ray Singh Rathore, Sheenu Abbat, Ramsong C. Nongpiur, Fatma Sarsu, Sneh L. Singla-Pareek, Ashwani Pareek*

Stress Physiology and Molecular Biology Laboratory, School of Life Sciences, Jawaharlal Nehru University, New Delhi 110067, India
Plant Breeding and Genetics Section, Joint FAO/IAEA Division of Nuclear Techniques in Food and Agriculture, Vienna, Austria
Plant Stress Biology, International Centre for Genetic Engineering and Biotechnology, Aruna Asaf Ali Marg, New Delhi 110067, India

Abstract
Mutation breeding has a long track record in the development of crop cultivars with improved tolerance to abiotic stresses such as heat, salinity and drought. Oryza sativa L. cv IR64 is a very popular high yielding rice, but susceptible to major abiotic stresses, such as low and high temperatures, salinity and drought. We subjected IR64 to gamma irradiation and generated a mutant population (M3) with ~2,000 families. These were screened at the seedling stage for tolerance to high-temperature stress using hydroponics and controlled-environment chambers, resulting in the identification of three mutant lines showing a robust seedling phenotype. Under heat stress, higher CO2 assimilation (10-30%), higher spikelet fertility (40-45%) and higher antioxidant activity (15-20% catalase activity) confirmed superiority of the selected mutant lines over wild type plants at seedling and flowering stages. Upon exposure to salinity and drought stress, the three selected lines also exhibited better tolerance than wild type in terms of higher CO2 assimilation, stomatal conductance, transpiration and chlorophyll fluorescence. Transcript and protein abundance analyses confirmed higher constitutive levels of heat shock proteins and antioxidant enzymes in the mutant lines relative to wild type. Tolerance to multiple abiotic stresses was reflected in higher (25-30%) grain yield than wild type. It is anticipated that the mutant lines identified will be useful for developing new improved cultivars for dry and saline areas and may be exploited to dissect the molecular basis of multiple stress tolerance in crop plants.

Pages 12-21 | Full Text PDF| DOI: 10.21475/ajcs.21.15.09.sp-1
………………………………………………………………………………………………………………………………………………………………..

Analysis of proline accumulation, antioxidant capacity and HSP expression in mutant rice lines with different heat tolerance

Jian-Zhong Huang, Shou-Ling Xu, Ting-Chen Ma, You-Fa Li, Hao-Wei Fu, Ze-Fu Li, Qing-Yao Shu*

Institute of Nuclear Agricultural Sciences, Zhejiang University, Hangzhou 310058, China
National Key Laboratory of Rice Biology, Institute of Crop Sciences, Zhejiang University, Hangzhou 310058, China
Rice Research Institute, Anhui Academy of Agricultural Sciences, Hefei 230031, China
Jiaxing Academy of Agricultural Sciences, Jiaxing314016, Zhejiang, China

Abstract
Three mutant rice (Oryza sativa L.) lines (AG1, AG2 and AG3) were selected as heat tolerant mutants from a gamma-ray-irradiated population of a heat-susceptible line (AG), based on their floret fertility grown under high temperatures. They were subjected to heat stress treatment (45°C, 22 hrs) at the 5-leaf stage, together with a heat-tolerant cultivar N22 and AG. Analysis of seedling root growth by WinRHIZO scanning revealed that N22 and AG3 were more heat-tolerant than the other lines (AG being the most heat susceptible). Following heat stress, a significantly higher level of oxidative damage, as indicated by TBARS, was observed in AG than in N22 and AG3. The proline accumulation was significantly higher in N22 and AG3(12- to 13.5- fold)than AG (2.5- fold). Similarly, significantly greater increases of total antioxidant capacity (T-AOC) and superoxide dismutase (SOD) activity were observed in N22 and AG3 than in AG. The expression of four heat shock proteins was also investigated using qPCR: OsHSP16.9, OsHSP80.3 and OsHSP100.9were induced by heat stress to various levels while OsHSP72.6was down-regulated in all tested lines. The heat-induced expression of OsHSP16.9 and OsHSP100.9 in N22 and AG3 was about twice that of AG. Higher proline accumulation and expression of the three HSP genes, as well as elevation ofT-AOC and SOD activity were observed in the heat-tolerant N22 and the mutant line AG3 under heat stress.

Pages 22-27 | Full Text PDF| DOI: 10.21475/ajcs.21.15.09.sp-2
………………………………………………………………………………………………………………………………………………………………..

Identification of small open reading frames (sORFs) associated with heat tolerance in nitrogen-fixing root nodules of Phaseolus vulgaris wild-type and cv BAT93

Alejandra Zayas-del Moral, Damián Martínez-Reyes, Carmen Quinto, Federico Sanchez† and Claudia Díaz-Camino*

Departamento de Biología Molecular de Plantas Instituto de Biotecnología, Universidad Nacional Autónoma de México Av. Universidad 2001, CP 62210, Cuernavaca, Morelos, México
Centro de Ciencias Genómicas, Universidad Nacional Autónoma de México AP 565A Cuernavaca, Morelos, México

Abstract
Common bean is an important legume crop and a major source of protein for low-income groups around the world. Legumes have the ability to engage symbiotic interactions with nitrogen-fixing soil bacteria. In this study, next-generation sequencing technology was used to perform transcriptome analyses of a yet unexplored group of peptides encoded by small open reading frames (sORFs; < 150 codons) in nitrogen-fixing symbiotic nodules of two heat-tolerant genotypes of common bean (Phaseolus vulgaris L): the cultivar BAT93 and a wild genotype (named P. vulgaris 7) from the south of Mexico. After heat stress, total RNA was isolated and used for transcriptome analysis. Sixty differentially expressed sORFs were identified between control and heat stress treatments. The expression profiles of these sORFs suggest that, regardless the evolutionary closeness between P. vulgaris BAT93 and P. vulgaris 7, each genotype has independently adapted their molecular signaling pathways to survive heat stress. The dataset developed may provide a useful resource for future genetic and genomic studies in these species.

Pages 28-37 | Full Text PDF| DOI: 10.21475/ajcs.21.15.09.sp-3
………………………………………………………………………………………………………………………………………………………………..


Expression of heat shock protein (HSP) genes and antioxidant enzyme genes in hybrid rice II YOU 838 during heat stress

Yan Wang, Min Huang, Peng Gao, Hao Chen, Yu Zheng, Chenming Yang, Zhirong Yang, Qun Sun

Key Laboratory of Bio-resource and Bio-environment of the Ministry of Education, College of Life Science, Sichuan University, Chengdu, Sichuan 610064, P.R. China
Key Laboratory of Irradiation Preservation of Sichuan Province, Sichuan Institute of Atomic Energy, Chengdu, Sichuan 610066, P.R. China

Abstract
II YOU 838 (Oryza sativa subsp. indica), crossed by the maternal II-32A and paternal Fu Hui 838, was one of the most widely cultivated hybrid rice in China. Fu Hui 838, which has resistance to high temperature, was generated by mutation technology in 1990. Previous field-testing showed that II YOU 838 had tolerance to high temperature stress and this was confirmed in the present study. The mechanism of heat tolerance of II YOU 838 is not understood. The present study reports gene expression of a representative sample of heat-responsive proteins in II YOU 838 flag leaves subjected to heat stress during flowering. Differential expression of the heat shock protein 70 (HSP70), heat shock protein 90 (HSP90), small heat shock protein (smHSP), superoxide dismutase (SOD), catalase (CAT) and peroxidase (POD) were studied under heat stress and optimum temperatures in flag leaves of II YOU 838. All six genes studied were responsive to high temperatures. Quantitative real-time PCR showed increased expression of the heat shock protein genes and antioxidant enzyme genes in flag leaves under heat stress. With increasing number of days gene expression decreased under high temperature. Peak expression of SOD, POD, hsp70 and hsp90 was on Day 2 under 39 ℃. On Day 3, the expression of CAT under 39 ℃ was the highest. The expression of smhsp was highest on Day 3 under 27 ℃, followed by that on Day 2 under 27 ℃. The maximum expression values were observed on Day 2 or Day 3 after beginning of heat stress. This suggests that hsp90, hsp70, SOD and POD are principally involved in early responses to heat in rice flag leaves, and that smhsp may play a role in the recovery mechanism in rice after heat stress. This may provide insights into the mechanism of heat-tolerance in rice.

Pages 38-43 | Full Text PDF| DOI: 10.21475/ajcs.21.15.09.sp-4
………………………………………………………………………………………………………………………………………………………………..

Evaluation of mutant rice genotypes for tolerance to high temperature

María Caridad González Cepero, Elizabeth Cristo, Noraida Pérez, Yanelis Reyes, Dayné Horta, Rodolfo Guillama, Guillermo Blanco, Mario Varela, Madeleine Spencer, Fatma Sarsu

National Institute of Agricultural Science, Cuba
Joint FAO/IAEA Division of NAFA, Plant Breeding and Genetics Section, IAEA, Vienna, Austria

Abstract
Rice (Oryza sativa L.) is planted in about a tenth of the arable area around the world and is the largest source of food energy for half of humanity. Climatic change with increasing frequency of severe and prolonged drought periods and significant increases in air temperature has affected global rice production. Therefore, generating mutant rice cultivars tolerant to high temperatures and low water supplies is of utmost importance. Advanced mutant rice lines which were derived from irradiated Amistad -82 and J-104 were evaluated in the field under high temperatures and low water supply conditions using Amistad-82 variety as control. The genotypes with the best and worst field performances were compared using physiological parameters such as cell membrane thermostability, pollen viability, lipid peroxidation, and peroxidase and catalase activity under high temperature conditions. Three mutant lines, 8852, 8552 and LP-12 showed high yielding under high temperatures and low water supplies conditions in the field and also showed better pollen viability, cell membrane thermo stability, lipid peroxidation and peroxidase than LP-16 mutant lines and the control cv. Amistad-82. These results show that the physical irradiation of seeds with protons followed by subsequent in vitro embryo culture using 2,4D may generate genetic variability for tolerance to high temperatures. The variation observed for the physiological and biochemical indicators evaluated could be used for the early selection of high temperature tolerant rice genotypes.

Pages 44-50 | Full Text PDF| DOI: 10.21475/ajcs.21.15.09.sp-5
………………………………………………………………………………………………………………………………………………………………..

Heat stress-induced changes in shoot and root characteristics of genotypes of tepary bean (Phaseolus acutifolius A. Gray), common bean (Phaseolus vulgaris L.) and their interspecific lines

Ligia Carmenza Muñoz*, Mariela Rivera, Jaime E. Muñoz, Fatma Sarsu, Idupulapati M. Rao*

Universidad Nacional de Colombia- sede Palmira, Carrera 32, Chapinero, Palmira, Colombia
Centro Internacional de Agricultura Tropical (CIAT), A.A 6713, Cali, Colombia
Plant Breeding and Genetics Section, Joint FAO/IAEA Division, NAFA, Austria
Present address: Plant Polymer Research Unit, National Centre for Agricultural Utilization Research, Agricultural Research Service, United States Department of Agriculture, 1815 North University Street, Peoria, IL 61604, USA

Abstract
Heat stress is a major limitation to grain yield in common bean (Phaseolus vulgaris L.). Tepary bean (Phaseolus acutifolius A. Gray) is better adapted to heat stress than common bean. Ten tepary bean accessions, four common bean genotypes and four interspecific lines involving P. vulgaris and P. acutufolius, P. coccineus and P. dumosus were evaluated for tolerance to heat stress conditions induced under greenhouse conditions and these were compared to plants grown under ambient temperatures. The high temperature treatment was 29 ±5 °C during the day and was >24 °C (up to 27 °C) during the night, while the ambient temperature (AT) treatment was 25 ±5 °C during the day and 19± 2 °C at night. The genotypic differences were evaluated for morpho-physiological characteristics of shoot and root and also yield components. The Genotype and Genotype × Temperature interactions were significant for all shoot and root morpho-physiological characteristics evaluated. Higher temperature (HT) significantly affected leaf photosynthetic efficiency, total chlorophyll content, and stomatal conductance. The effect was positive or negative, depending on the genotypes. Tepary accessions showed reduced total chlorophyll content, while common bean genotypes and the interspecific lines were less affected. Tepary accessions also showed reduced stomatal conductance, but increased leaf photosynthetic efficiency under HT. Common bean genotypes increased stomatal conductance and decreased leaf photosynthetic efficiency. High temperature decreased total root length, specific root length and pod biomass compared to ambient conditions, but there was no marked effect on pollen viability of the tested genotypes. The superior adaptation of tepary germplasm accessions to high temperature is attributed to their ability to regulate stomatal opening and photosynthetic efficiency, together with a superior ability to remobilize photosynthates from older leaves to pods during physiological maturity.

Pages 51-59 | Full Text PDF| DOI: 10.21475/ajcs.21.15.09.sp-6
………………………………………………………………………………………………………………………………………………………………..

Mutation breeding for heat and drought tolerance in tepary bean (Phaseolus acutifolius A. Gray)

Ligia Carmenza Muñoz*, Daniel G. Debouck, Mariela Rivera, Jaime E. Muñoz, Deisy Alpala, Fatma Sarsu, Idupulapati M. Rao

Universidad Nacional de Colombia- sede Palmira, Carrera 32, Chapinero, Palmira, Colombia
Centro Internacional de Agricultura Tropical (CIAT), A.A 6713, Cali, Colombia
International Atomic Energy Agency (IAEA), VIC, PO Box 100, 1400 Vienna, Austria
Present address: Plant Polymer Research Unit, National Center for Agricultural Utilization Agricultural Research Service, United States Department of Agriculture, 1815 North University Street, Peoria, IL 61604, USA

Abstract
Tepary bean (Phaseolus acutifolius A. Gray) is more heat and drought tolerant than common bean (P. vulgaris L.). Four hundred mutant lines of two tepary accessions (G40068 and G40159) were generated by ethyl methane sulfonate (EMS) treatment. In preliminary studies of the M5 mutant lines under abiotic stress, three mutant lines (CMT 38, CMT 109, CMT 187) were selected from six mutated lines based on morpho-physiological traits and superior yield and advanced to the M6 generation. The M6 mutant lines were uniform and genetically stable. These mutant lines and their original (M0) parents were evaluated for heat and drought tolerance under greenhouse conditions. Their performance was evaluated for morpho-physiological attributes, seed yield and yield components. Under high temperature and drought conditions, the CMT 38 mutant (M6 line) and its original tepary (M0) accession (G40068) showed greater values of pod biomass, pod number and 100-seed biomass than the other lines tested. The CMT 109 and CMT 187 mutant lines and their G40159 original accession (M0) also showed the highest value of seed number under high temperature and drought conditions. This suggests that the previous screening performed during the population advancement of these mutant lines, based on morphological traits like growth habit, was not detrimental to the yield variables evaluated here. Under combined heat and drought conditions, different parameters could be incorporated into tepary breeding programmes, as selection criteria to screen genotypes for tolerance to heat and drought stress. These parameters included: chlorophyll (SPAD) readings, seed biomass, 100-seed biomass and seed number because they explain the observed variance in the principal component analysis. Two additional traits (root biomass and stem diameter) were also identified as useful attributes, based on univariate analysis. The mutant lines evaluated here offer potential for further improvement of tepary bean to high temperature and drought.

Pages 60-68 | Full Text PDF| DOI: 10.21475/ajcs.21.15.09.sp-7
………………………………………………………………………………………………………………………………………………………………..

Field performance of heat tolerant mutant rice lines generated from Oryza sativa and Oryza glaberrima

Paul Mbogo Kusolwa*, Yona Neema, Masanche Rajab, Ashura, Luzi- Kihupi, Fatma Sarsu

Department of Crop Science and Production, Sokoine University of Agriculture P. O. Box 3005 Morogoro Tanzania
Joint FAO/IAEA Division of Nuclear Techniques in Food and Agriculture, Plant Breeding and Genetics Section Vienna, Austria

Abstract
This study evaluated mutant lines developed from two cultivated species of upland rice, Oryza sativa, and Oryza glaberrima, in field experiments conducted during the hot and dry seasons of 2014/2015 in Morogoro, Tanzania. The growth yield and yield components of 34 and 14 Gamma induced mutant upland rice lines developed from O. sativa (Kihogo red) and O. glaberrima were evaluated, respectively. The mutant lines were selected based on variable expression of heat shock protein genes (HSPs) in previously conducted heat tolerance studies. The minimum and maximum temperatures and rainfall during the field performance experiment were measured between 20 oC and 35 oC, and 32.7 mm and 155.5 mm, respectively. The data for 12 yield and yield component parameters such as days to early and 50% flowering, days to physical maturity, plant height, number of tillers, number of panicles, spikelets, filled grains, unfilled grains and 1,000 grain weights were collected and analysed using ANOVA and Principal Component Analysis. Significant differences (P≤0.05) were obtained among the mutant lines in terms of grain yield, spikelet sterility and other variables, which were further used as criteria for selection of heat and drought tolerant rice lines. Eight heat and drought tolerant mutant rice lines with high yields (over 3.5 ton/ha) and low spikelet sterility were selected for further advancement in breeding programmes.

Pages 69-78 | Full Text PDF| DOI: 10.21475/ajcs.21.15.09.sp-8
………………………………………………………………………………………………………………………………………………………………..

Correlation of yield with early seedling performance and physio-biochemical traits in Basmati rice mutants subjected to heat stress

Muhammad Ashraf*, Amjad Hameed, Zial-ul-Qamar, Fatma Sarsu

Nuclear Institute for Agriculture and Biology (NIAB), Faisalabad, Pakistan
International Atomic Energy Agency (IAEA), Vienna, Austria

Abstract
The present study aims at deciphering the response of Basmati rice mutants to high temperature stress. The work aims to find an early screening method by correlating seedling and physiological response to yields. After rigorous screening in controlled environment (growth chamber) and field conditions over a period of four years 16 mutants' lines were selected: HTT-18, HTT-29, HTT-31, HTT-39, HTT-51, HTT-53, HTT-74, HTT-81, HTT-92, HTT-97, HTT-98, HTT-104, HTT-114, HTT-119, HTT-132 and HTT-138. These have been tested against standards: Super Basmati and IR-64. Field trials were conducted at three locations while early seedling-stage traits and their biochemical analyses were studied in growth chamber experiments. Data of seedling traits were used to establish correlations with paddy yield under hot field conditions. The temperatures were high at two sites: Multan and Bahawalpur ranging 24-46 °C and 25-45 °C respectively), and relatively lower at NIAB field station (26-45 °C. The paddy yield was significantly correlated with early seedling-stage traits such as shoot length (0.79**), shoot fresh and dry weight (0.48* and 0.49*), and cell membrane thermo-stability (0.60**). Additionally, significant higher activities of antioxidants (SOD and APX) and lower stress indicators (MDA, esterase and TOS) were observed in the heat tolerant mutants. These mutants were classified for their heat tolerance by principle component analysis (PCA) using yield-correlated early seedling-stage and other physio-biochemical parameters. As a result, the heat tolerance classification of mutants based on PCA coincided with the yield of mutants grown under hot field conditions. The present study suggests that these seedling parameters may be used as surrogates for field performance and used in the selection of thermo-tolerant Basmati rice.

Pages 79-90 | Full Text PDF| DOI: 10.21475/ajcs.21.15.09.sp-9